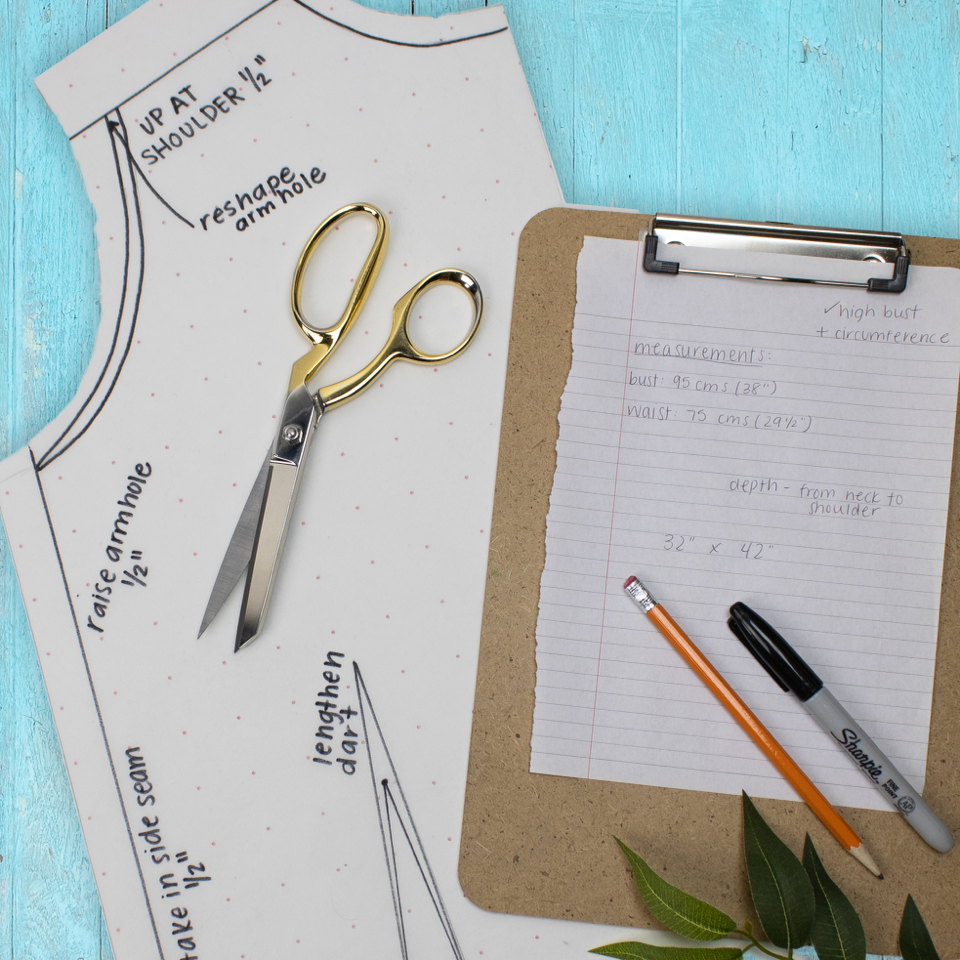 This is a one-day intensive workshop in which you'll learn how to make all the common adjustments to bodice patterns, including bust adjustments, darts, and princess seams. Once you learn the process and fundamentals, you'll be able to apply them to any bodice sewing pattern!

Guest instructor Beth Galvin will be joining us all the way from sunny California, where she teaches this workshop and many more at Hello Stitch Studio.

We've had so many requests for this class, we are running it twice- choose from Saturday, October 21st or Sunday, October 22nd., but space is limited to only 10 students per day.

The day will be structured as folllows:
- Morning session (10:00am-12:30pm)
- Lunch break (12:30pm-1:30pm)
- Afternoon session (1:30pm-5:00pm)

During the morning session, Beth will discuss the latest changes and innovations in newer sewing patterns, including an updated size chart and specific figure/body shape patterns. Topics of discussion also include how to take measurements and how to examine pattern information, then you will dive into adjusting sample patterns. Beth will show you methods for full and small bust adjustments, adjusting princess seams and moving darts. Students will practice making adjustments on half-scale patterns provided by the instructor.

During the afternoon session, students will put their new-found knowledge into practice and work on adjusting a bodice pattern of their own choosing (you may bring a top or dress pattern). After making the desired adjustments to the paper pattern, students will then cut out a muslin version, stitch it up, fine tune the adjustments and then take those final adjustments back to the paper pattern.

After the completion of the workshop, you will leave class confident and know how to modify any pattern to your specific body shape! This essential skill will take you far in your garment making journey. This class is for students who have experience working with garments. Graduates of our garment 101 class are highly encouraged to take this class if you are looking to learn an essential skill in garment making!

Required Materials:
- any sewing pattern of your choosing for which you desire to make bust/bodice adjustments
- muslin in quantity needed to sew your pattern sample
- thread

Required Tools:
- acrylic ruler
- scissors
- tape
- paper + pencil for notes

---
Cancellation Policy:
Due to the unique nature of this class and the attendance of a specialized external instructor, the cost of this class is non-refundable, unless there is a waitlist, and we are able to fill your spot.

| | |
| --- | --- |
| Skill Level: | Intermediate |
| Skill Details: | |
| Instructor: | Beth Galvin |
| Instructor Bio: | Beth started sewing at age 7 and can sew everything from casual knit tops to tailored jackets to over the top party dresses. She loves to help people get the pattern they love to fit the way they want! She has a popular sewing blog, Sunnygal Studio where she shares her tips and tricks and she also blogs for Craftsy. |