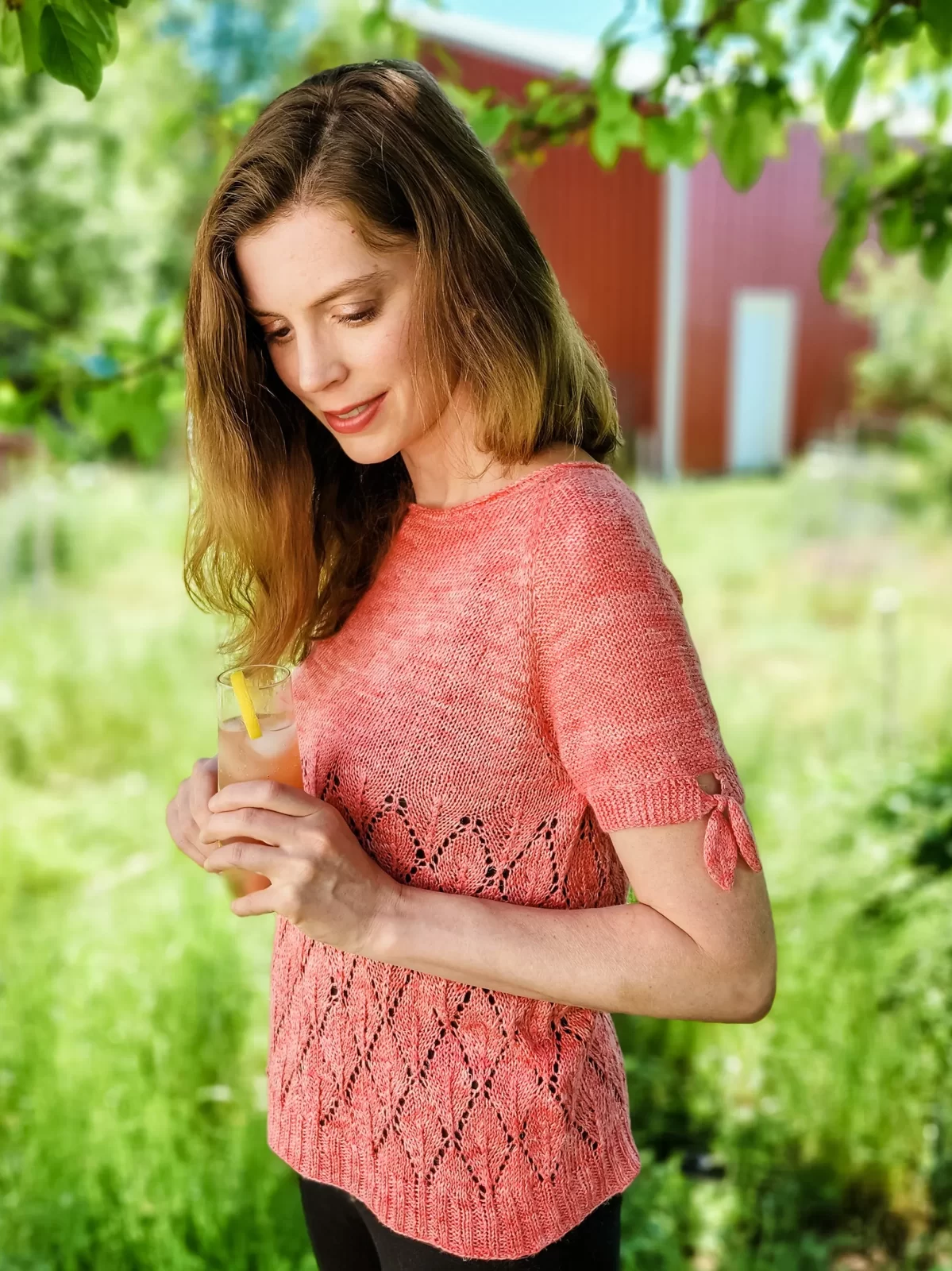 Join us in the studio Saturday, July 1st for a FUN and FREE cast-on party featuring the Lemon Spritz top by Olive Knits!

During the event, there will be an instructor on hand to help you with your measurements, determine your correct size, assist in the yarn selection and begin the cast on for your top. In addition to starting your knit top, there will be refreshments and door prizes to add to the fun! Plus, if you bring your finished knit top back to the studio to show our team, you will receive a 20% discount on your next yarn purchase in the shop!

The Lemon Spritz is a breezy summer top with playful details! This tee is knit from the top down in the round, in one seamless piece. The neckline features a quick and easy "rolled" edge, and the short sleeves are framed with a perpendicular garter edge and lemon leaf ties. With easy, comfortable raglan shaping, lacy details in the lower body, and delightful "lemon leaf" ties on the short sleeves, you'll have a gorgeous quick-knit top just in time for warm weather.

The pattern is available through Olive Knits and must be downloaded and brought into the studio with you. The pattern will be available on June 30th. However, you'll have access to the preorder file with all the details for yarn, size and swatching. Pattern information can be found here.

Size:
S, M, L, XL, 2XL, 3XL, 4XL, 5XL, 6XL - designed to be worn with approximately 2-4 in/5-10 cm positive ease
Gauge:
-22 sts and 23 rnds over 4 in/10cm in stockinette stitch, blocked
Suggested Yarn: (purchased in the shop)
-Malabrigo Arroyo, available in the shop
-Cascade Hampton, available in the shop
-Berroco Vintage DK, available in the shop
- 720 (778, 840, 907, 980, 1058, 1143, 1245, 1357) yards/ 658 (711, 768, 829, 896, 967, 1045, 1138, 1240) meters.
*Yardage is an estimate and may vary based on your gauge and yarn choice. If in doubt, please rounds up. Yarn substitutions may create different results, please keep this in mind.

Required Needles - depends on your size, available in the shop
-US 4/3.5 mm (24-40 in/40-100 cm) circular needles – body
-US 3/3.25 mm (16 in/40 cm) circular needles – neckline finish
-US 3/3.25 mm (12 in/30 cm) circular needles or DNPs – sleeves

This event is recommended for Knitting 301 students, or those who have a similar experience level. Students must be comfortable with knitting on their own since there will be no formal instructions.


We look forward to seeing you in the studio!