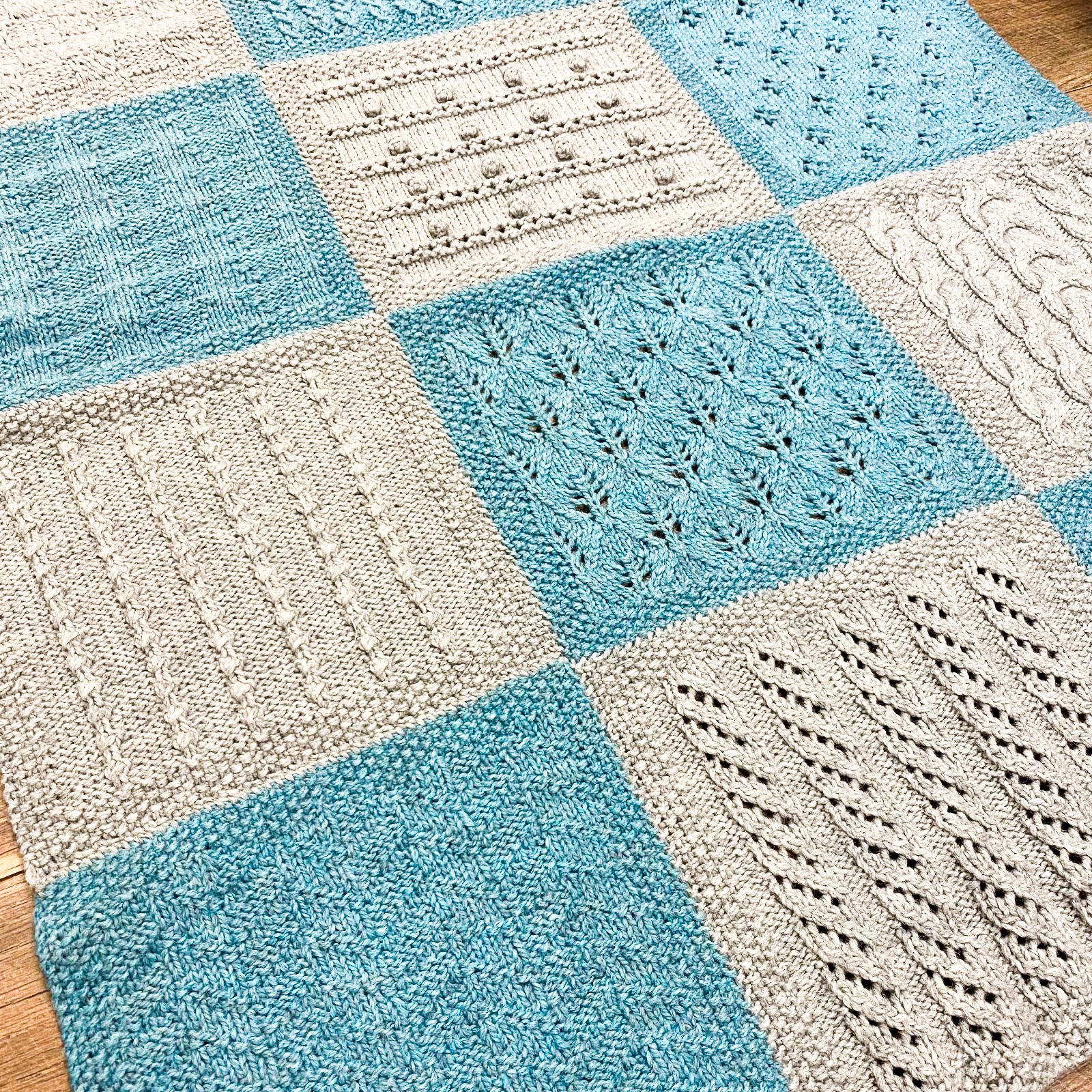 **This is the second part of our Building Blocks Blanket series.

The class is a great next step for new knitters. Suitable for those who have completed part 1 of Building blocks.

This class takes you through a series of fun patterns that will build your knitting skills. Run over two 6 week parts you can choose whether you just do part 1 or continue to part two and learn all 12 patterns.

Each week you will work on a different block. Each block focuses on new stitches, start week 1 with a basic pattern and each week the skill level builds hence the name 'Building blocks'.

Patterns taught within part 1 and 2: Cables, slip stitches, left twist, right twist, make one, mock cables, SSK, a basic design charted, lace and bobbles.

Pattern will be demonstrated in class and then you will work on your own block. There is a significant amount of homework each week and after the first week it is necessary to come to class with the border done ready for that weeks block.

Week 1- We will cast on for the first block and learn the seed stitch for the border. We will then review the pattern for the first block and it will be demonstrated by the instructor. You will then start working on your own block.

Week 2 onwards- You will come to class with the border already knitted for that weeks block. The pattern will be reviewed and then demonstrated. You will then start your block.

Required Materials:

Pattern- building blocks blanket by Michelle Hunter, available here

Over the six weeks of part 2 you will make 6 blocks.

We recommend the following yarns:

Berroco Vintage chunky, this yarn is machine washable so a good option for a baby blanket

Cascade 220 ,this yarn is hand-wash only.

You will need 1400 yds of yarn in total to make all 12 blocks of the blanket. The number of skeins required depends on which yarn you choose.

Please have yarn wound and ready to be knitted with at the start of the class.

Required tools:

Needles US 10.5 24" circular needles for use with Cascade eco available here
Or US 9 24" circular for use with Berroco vintage, and cascade 220 . - available here

Index cards
Pen or pencil
Ring markers (available here )
Locking stitch markers (available here )
Chibi needle (available here)
Scissors , (selection available here )

Cancellation Policy:

If you are unable to attend the class, a refund will only be provided if you notify us 72 hrs in advance in writing by email and there is a waitlist for the class, and we are able to fill your spot. Otherwise, a credit for a future class will be issued.
No refunds or credits will be provided if you notify us less than 72 hrs in advance. By registering for the class, you are agreeing to this cancellation policy
| | |
| --- | --- |
| Skill Level: | Intermediate |
| Skill Details: | |
| Instructor: | Juliet McDonnell |