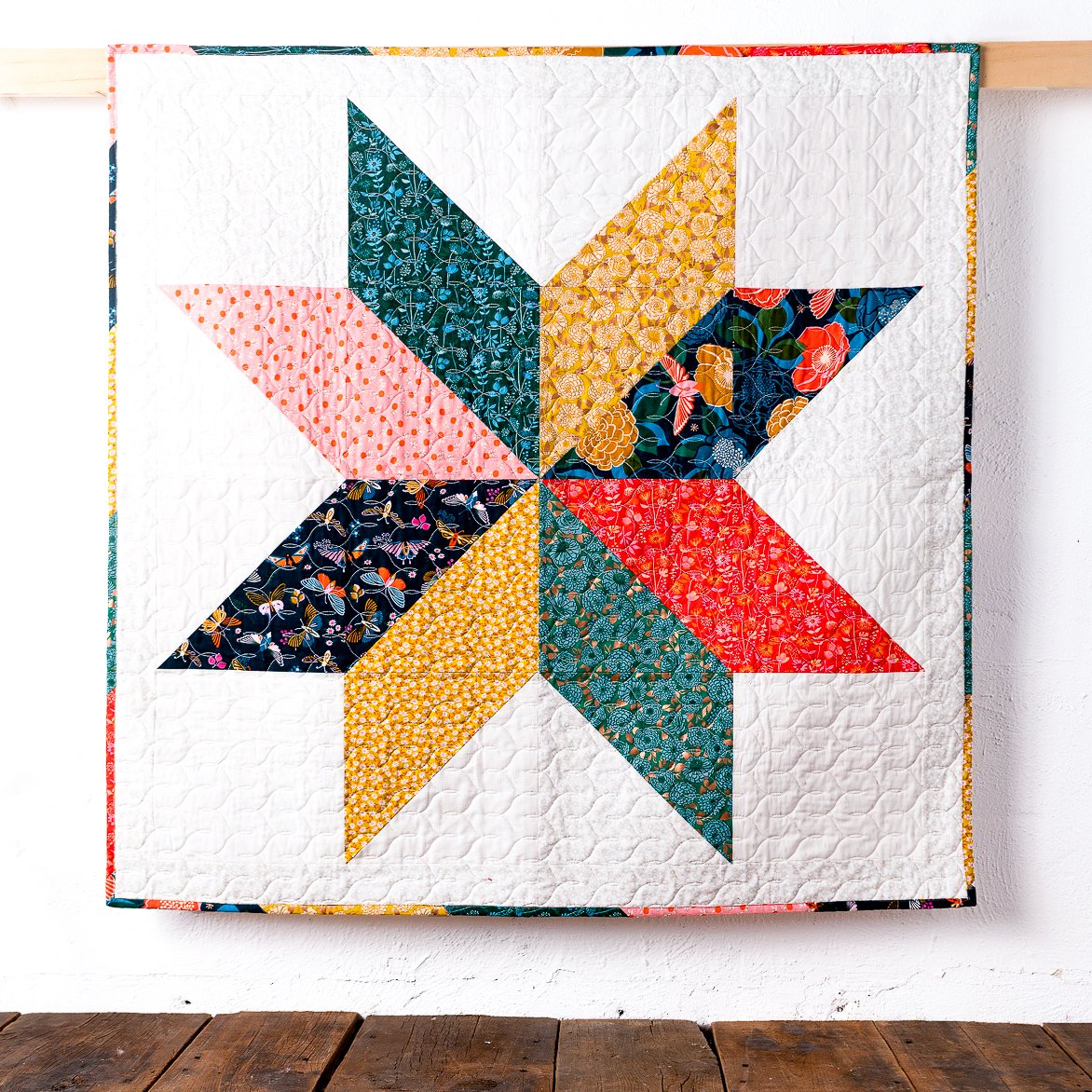 In this 8-week course, students will learn the art of quilting. Students will make a quilt measuring approximately 48" x 48" using Half-Square Triangles, a basic beginner-friendly sewing block. (This quilt size is perfect for baby gifts!) We'll systematically work through the proper techniques of the quilting process, from cutting to piecing to assembling, basting, quilting, and binding a quilt. Students will not only receive instruction on these steps but will have sufficient time during class to work on and master these skills under the guidance of the instructor.

Fabrics for the quilt top must be purchased before (and brought to) the first class.
Note: This course is designed with enough work time that should be able to finish the quilt during class time, but a finished product is not guaranteed, and students may have to complete homework to finish the quilt within the course timeframes.

Required Materials:
- Studio M Squared's Simple Star Quilt Pattern
- Star Fabrics: (8) fat quarters or (8) 3/8 yard cuts
- Background Fabrics: (8) fat quarters or (8) 3/8 yard cuts. Alternatively, if using one fabric for the entire background you will need 1 yard
- Border/ Sashing Fabric: 1/2 yard
- Backing fabric: 3 1/4 yard
- Binding Fabric: 3/8 yard
- Cotton Batting: 1 Package of Batting - Twin size - at least 54" x 54"
- (1) spool 50 weight Aurifil thread for piecing
- (1) spool 40 weight Aurifil for quilting
- curved safety pins (available here)

Required Tools:
- Rotary Cutter (available here) and Acrylic Ruler (available here)
- Pins (available here)
- Fabric scissors
- Seam ripper (available here)
- Marking tool - chalk or friction pen (available here)

Cancellation Policy:
If you are unable to attend the class, a refund will only be provided if you notify us 72 hrs in advance in writing by email and there is a waitlist for the class, and we are able to fill your spot. Otherwise, a credit for a future class will be issued.
No refunds or credits will be provided if you notify us less than 72 hrs in advance. By registering for the class, you are agreeing to this cancellation policy
| | |
| --- | --- |
| Skill Level: | Beginner |
| Skill Details: | Beginner |
| Materials Included: | No |
| Requirements: | Students do not need quilting experience, however students must be comfortable with independently operating a sewing machine. |
| Instructor: | Mandy Richards |