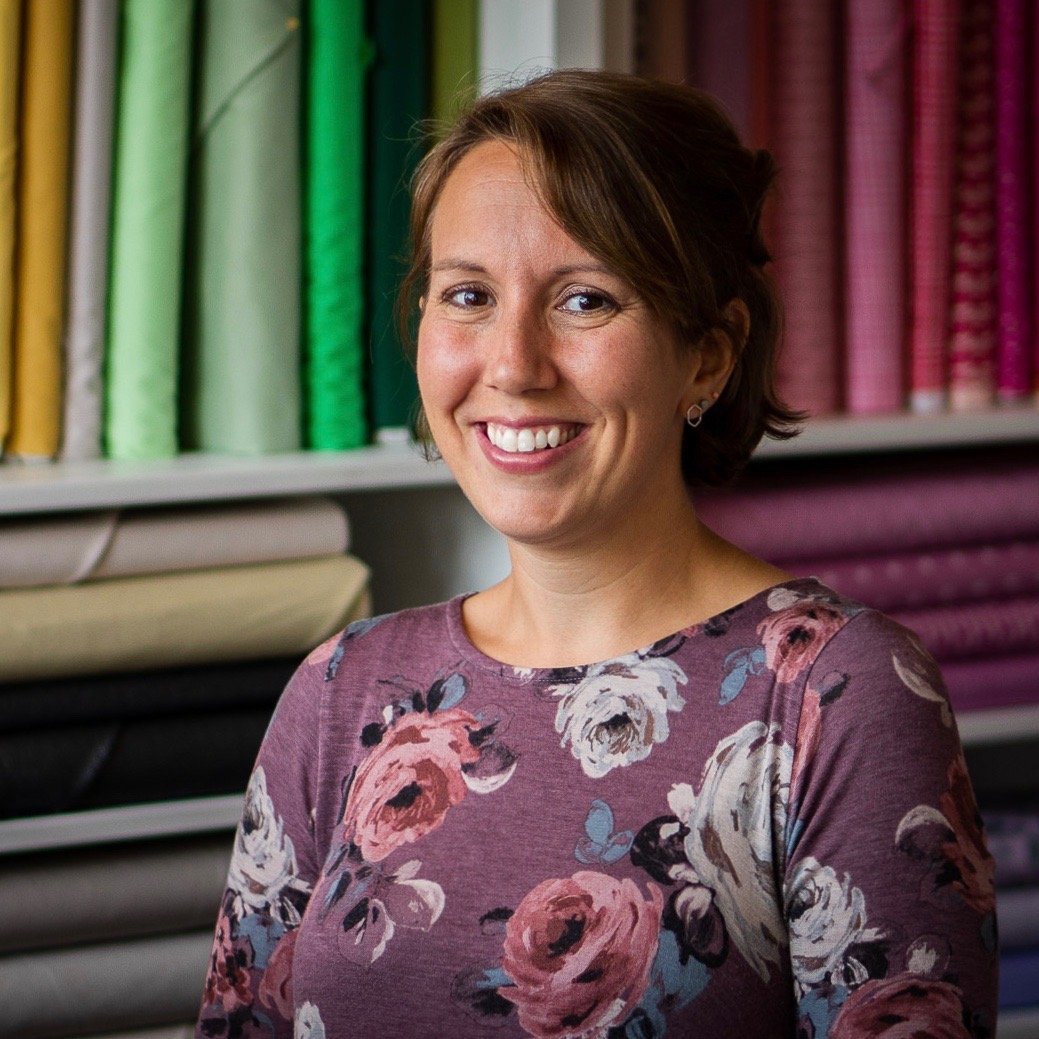 Meg Fahrenbach
Meg Fahrenbach was born and raised in Westfield. She began quilting when she was 5 years old, helping her Gram hand stitch quilts on a handmade quilting frame. Meg's love for textile arts grew from there, and she pursued her education in the visual arts at The School of the Museum of Fine Arts at Tufts University in Boston. She began her career as an early childhood teacher, but Meg's life turned down a different path as her family began to grow. She began knitting professionally, as well as designing her own embroidery patterns. She eventually found her way back to sewing and quilting, and before long it was clear that this was Meg's calling. Meg teaches quilting and embroidery classes for adults workshops, She encourages students to find joy in the process of the craft no matter their sewing level. When she is not spending time attempting to spread her love of all things sewing and color, she can be found coaching youth sports, gardening, or adventuring with her three daughters and husband.
Julie Horne
Julie Horne studied Fine Arts with a theater concentration at Ramapo College of New Jersey. She spent several years working as an event planner for a NYC charity before becoming a stay home mom of 4 in Cranford. She has taught children's theater classes, served as a Girl Scout Leader and PTA Board Member where she always tried to inspire creative thinking. Julie has been sewing off and on for many years until she made her first quilt a few years ago and she hasn't put her machine away since. She loves challenging herself with new quilting techniques and also makes clothes, bags and other fun projects and gains much inspiration from her S&B Quilting Club. Her favorite part of teaching the kids is seeing the smile and sense of pride when something they've patiently worked on is finished. Julie comes from a large family of talented crafters and credits her love of sewing to her mother and grandmother.
Carmela Resnick
Carmela Resnick is a graduate of Montclair State University with a teaching degree in Home Economics. She began her career as a children's designer and merchandise manager working for several major commercial pattern companies for 20 years. She has taught sewing lessons to children and adults at Sears Sewing School, Fabricland and The Exploration Studio. Carmela has had extensive experience working with children of all ages through her volunteer work as a Cub Scout leader, Girl Scout leader, PTA committee member, REP theatre parent and Interact advisor. She has also studied various mediums of art for 15 years and currently continues to paint, exhibit and sell her art work as well as give sewing instruction to adults and children of all ages. Carmela's energy, spirit, and passion for everything crafty is evident each and every time she's in the studio!

Julia Passafiume
Julia Passafiume is a graduate of Parson's The New School for Design in NYC. She has a BFA in Fashion Design and her senior year was nominated for Designer of The Year. She began her career in the fashion industry as a dress & textile designer, but quickly got over the vast amount of wasted resources and energy that takes place in our fast fashion culture. She quit New York City in order to pursue her love of sewing and teaching. Julia started her own line of sustainable baby and children garments which she sells at local markets and craft fairs. She teaches kids and teens after school classes as well as adult garment classes at Urban Sewciety. She loves when kids and teens complete a project and realize their own sewing potential. When she's not at the studio teaching, she can be seen with her boyfriend down by the beach in her hometown, Belmar, NJ.